Cleaning up community areas at the Bunker Hill Superfund Site
The Bunker Hill Superfund Site in northern Idaho is located within one of the largest historical mining districts in the world. Commercial mining for lead, zinc, silver, and other metals began in the Silver Valley in 1883. Heavy metals contamination in soil, sediment, surface water, and groundwater from over 100 years of commercial mining, milling, smelting, and associated modes of transportation has impacted both human health and environmental resources in many areas throughout the Site. 
History of Lead Contamination
During 1973-1974, the lead smelter operated without controls following a fire in the main baghouse. Excessive smelter emissions and deposition of fine, high-lead particulate in air, soil, and dusts were the principal exposure routes to children. Dozens of children were diagnosed with clinical lead poisoning and several were hospitalized. At that time, blood lead levels in local children were some of the highest levels ever measured in the country. Emergency response actions were initiated in 1974; however, mean blood lead levels in preschool children remained near 40 µg/dL until smelter closure in 1981. 
Documenting and Addressing the Problem
Starting in 1983, a Lead Health Study was jointly conducted by state, federal, and local health agencies to identify blood lead levels and exposure pathways in the community. In 1985, a Lead Health Intervention Program (LHIP) was initiated by the State of Idaho with funding provided by the Federal government. The LHIP was developed to minimize blood lead levels in children through health education, parental awareness, and biological monitoring. This ongoing program is currently administered by the Panhandle Health District (PHD) and includes educational and outreach activities, a vacuum loan program and annual blood lead testing of children living on the Site.
Property Cleanups
The Bunker Hill Superfund Site was officially designated in 1983, with work initially being focused on the area in the vicinity of the smelter referred to as the Bunker Hill "Box." EPA, the Idaho Department of Environmental Quality and the PHD have been working at the Site since 1986 to remove lead contaminated soil and gravel from residential properties, churches, schools, parks, businesses, and rights-of-way. These cleanup efforts have focused on removing lead contaminated surface materials (soil and gravel) because they pose serious health risks to children six years of age and younger. Lead poisoning in children can result in learning and behavioral problems, hearing problems, diminished IQ, and kidney damage. Developing fetuses can also be adversely affected when pregnant women are exposed to elevated levels of lead. EPA also classifies lead as a possible cancer-causing agent.
Over 6,400 properties contaminated with lead have been cleaned up in the Box and the Coeur d'Alene Basin (the portion of the Site outside the Box) through 2011 [See "Property Cleanups in the Box and Basin by Year…" figure]. Property cleanup work in the Basin is ongoing and expected to continue for several more years. Property cleanups in the Box have been completed.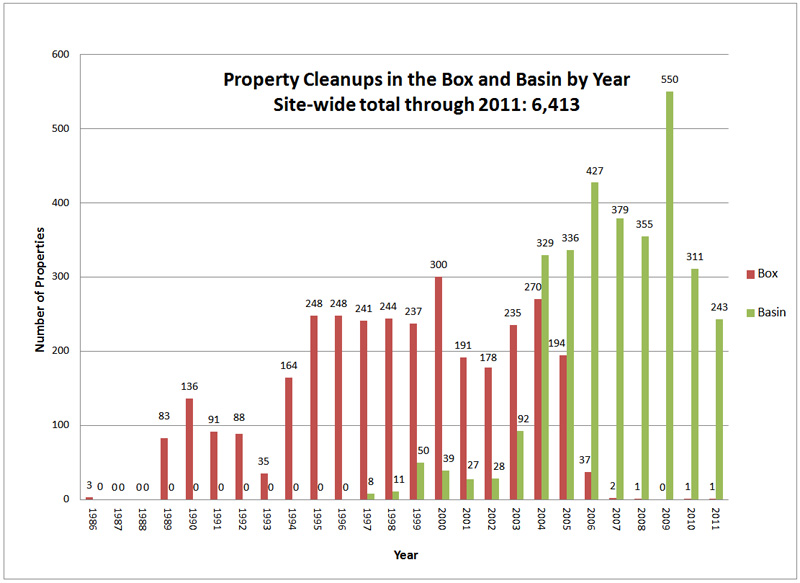 Making Progress – Clean soil means lower blood lead levels
With the closure of the smelter and other major industrial operations in the early 1980s, the initiation and continuing Superfund cleanup work, and the health intervention services offered by the PHD, blood lead levels in children living on the Site have decreased significantly. The next figure, "Percent of Children with Blood Lead Levels…" shows blood lead levels of children tested in Kellog and the Basin between 1988 and 2011.
Property cleanup work in the Basin continues to move toward completion and these efforts, in combination with the ongoing health intervention activities, are expected to result in further reductions in blood lead levels and associated health effects in children living on the Site.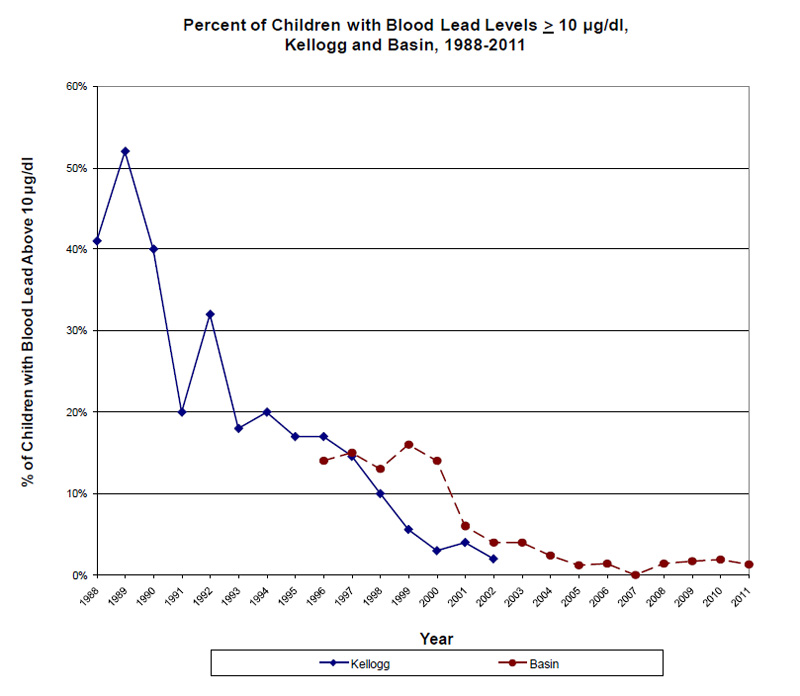 Cleanups help more than just human communities
In 2011, EPA finished converting nearly 400 acres of agricultural property near Medimont to healthy wetland habitat. The area was made into clean feeding habitat for swans, ducks, and other wetland birds. For more information click here.
<- Back to Blood Lead Awareness Page